Employment Opportunities
The Bowling Green Police Department does not currently have openings for full-time police officers, however the Department is always interested in candidates for reserve status positions. Officers receive a variety of benefits through the City of Bowling Green. Those interested in a career with our department can download the Application for Employment. You may drop off or mail your completed application to:
Bowling Green Police Department
15 W. Church St.
Bowling Green, MO  63334
Attn: Employment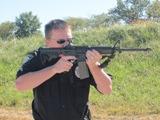 Training
The Department supplies both in-service and specialized training to the officers of the department. This includes firearms and tactical training. All officers are required to complete in-service training each year as well as specialized training in areas including taser, defensive tactics, firearms, and legal updates. All outside training is coordinated through the various academies and training institutions throughout Missouri and nationally.
For more information, call (573) 324-3200.