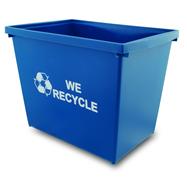 Recycling Program
The City of Bowling Green actively encourages recycling. The City's curbside recycling program is provided through the Pike Shop, an enterprise which provides service for the developmentally disabled. The Pike Shop will pick up recycables on either Monday or Tuesday of each week, dependent upon your trash pickup schedule. A Monday/Thursday schedule will be picked up on Monday and a Tuesday/Friday schedule will be picked up on Tuesday. There is an additional cost for curb side pick-up to recycle. The blue plastic bags are available for 50 cents a bag from the Pike Shop at 900 Independence Drive. Blue plastic bags should be placed curbside by 6:00 AM on pickup days.
Plastic
Paper
Aluminum Cans
Steel Cans
Aluminum/Steel Scrap
Books
Clothes
Shoes
The Pike Shop is unable to process glass, styrofoam, pill bottles or electronics.
For more information on curbside recycling contact the Pike Shop at (573) 324-2205.